Phone: 256-761-3765
Email:
Degrees and Certifications:
EdD Deaf Education/Deaf Studies MA Educational Administration MA Visual Impairments MA Math BS Math
Dr.

Dennis Gilliam, Executive Director

Joined September 2016

Dr. Dennis A. Gilliam is the Executive Director of Special Projects for the Alabama Institute for Deaf and Blind. In addition to other projects, Dr. Gilliam manages the NTID Southeast Regional STEM Center at AIDB. A 25 year veteran educator, his experiences span a myriad of exceptional education areas. Committed to lifelong learning, Dennis obtained both his B.S. and M.A. in mathematics from the University of Alabama. Dr. Gilliam went on to obtain certification in Visual Impairments from the University of Alabama- Birmingham and Educational Administration certification from the University of Montevallo. Dennis obtained his Doctorate in Deaf Studies and Deaf Education from Lamar University.
Phone: 256-474-0452 (VP)
Email:
Degrees and Certifications:
MA Deaf Education - Lamar University BS Computer Engineering - George Mason University
Jason Roop, Director

Specialty Areas - Cybersecurity, Math

Joined February 2019

Jason Roop is currently a STEM trainer at the NRSC in Talladega, Alabama. A native of Virginia and graduate of Georga Mason University, instead of working in the private sector immediately after undergraduate school, he chose to work with Deaf children at Alabama School for the Deaf (ASD). He received his Master's in Deaf Education from Lamar University shortly thereafter. Because of his experience as a Deaf student in a mainstream program, being exposed to STEM courses in high school, he desired to bring the same experiences and life changing impact to the students at ASD. His nearly 17 years of experience in Deaf Education and Information Technology gives him an unique perspective in promoting STEM in education.
Phone: 256-761-3765
Email:
Degrees and Certifications:
Tammy Tipton, NRSC Administrative Assistant

Joined March 2019

Bio coming soon!
Phone: 256-589-0112 (V), 256-474-4560 (VP)
Email:
Degrees and Certifications:
MEd Deaf Education - Western Maryland College/McDaniel College BS Bible/EL Education - Roanoke Bible Collge/Mid-Atlantic Christian University
Lynn Dunn

Specialty Areas - English, Literacy, ACT

Joined November 2016

Having been in the educational field for over thirty years, Lynn has worn many hats from classroom teacher, language specialist, curriculum coordinator, counselor, and outreach provider in the area of English and literacy in relation to STEM education. She has taught Deaf/Hard-of-Hearing students from the kindergarten level through college level in the areas of Life Skills/ Independent Living Skills, Social Studies, English, and reading. In my latest role as STEM Outreach Coordinator, I have been involved in workshops/trainings involving the Universal Design for Learning, the Outdoor Classroom, and NSTA workshops related to including STEM across the curriculum; as well as, presenting on the regional and national levels on teaching English/Writing Skills to the Deaf/Hard-of-Hearing, ACT Prep, incorporating STEM/NGSS across all subject areas.
Phone: 256-474-0243 (VP)
Email:
Degrees and Certifications:
MA Deaf Education - Gallaudet University BA Elementary Education - Wichita State University
Harry Wood

Specialty Areas - Science, Robotics, Coding/Computer Science

Joined January 2017

Harry Wood is a STEM Trainer at the NTID Regional STEM Center (NRSC) in Talladega, Alabama since January 2017. He started out as the math/science specialist and now specializes in Robotics for STEM education. He tries to combine his experience as a teacher of the D/HH with the best practices of STEM education into a cohesive model. Prior to his current position, Harry taught students in high school at the Virginia School for the Deaf and the Blind from 2003-2016, specializing in science education. Originally hailing from Maryland, he provides support & enthusiasm in robotics, computer science, science, and math among many other things.
Phone: 256-589-5325 (V)
Email:
Degrees and Certifications:
BS Interpreting - Troy University NIC (Written) NIC (Performance in process)
Lauren Cash, NRSC Interpeter

Joined May 2019

Lauren is a driven individual whom has big plans for the future. She loves her career and lives by the motto, "if you love your job, you never work a day in your life." She has been interpreting professionally for 4 years and has grown so much during that time. Lauren loves the outdoors and cherishes time with friends and family. She strives to be the best and looks forward to meeting her goals she has set for herself.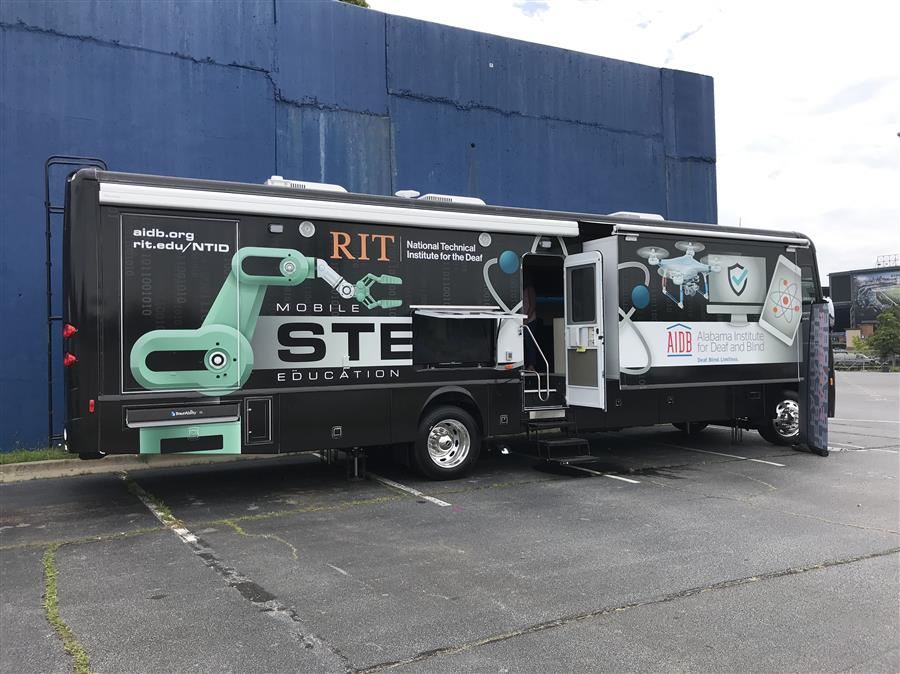 Phone:
Email:
Degrees and Certifications:
CDL BA STEM Driving MA STEM Learning
Boomer

Joined June 2019

Loves to travel

Loves STEM

Loves students