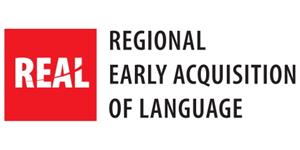 Regional Early Acquisition of Language
The Regional Early Acquisition of Language (REAL) Project is a collaboration between Gallaudet University's Laurent Clerc National Deaf Education Center and Alabama Institute for Deaf and Blind (AIDB) and is housed on the campus of AIDB in Talladega, Alabama. The REAL Project serves nine Southeastern states including Alabama, Florida, Georgia, Kentucky, Louisiana, Mississippi, North Carolina, South Carolina, and Tennessee.

The mission of the REAL Project is to ensure that infants and toddlers ranging in age from birth to 3 years old and who are deaf or hard of hearing have full access to languages, including American Sign Language and English. The first few years of life are critical for language acquisition because it prepares children to be "school- ready" when they enter school. The REAL Project establishes a network of resources and tools for Early Intervention teams and families. More information about resources and tools will come soon.
REAL Project Staff
Suzanne Mattox, Director

Suzanne Mattox joined the REAL Project in 2019 as its Director. A native of Birmingham, AL, Suzanne was born profoundly deaf and raised by hearing parents. Suzanne graduated from Samford University in 2006 with a Bachelor's degree in Early Childhood/Special Early Childhood/Elementary Education/Special Education and from Valdosta State University in 2013 with a Master's Degree in Deaf Education.

Because of her background, Suzanne knew that she wanted to be a teacher for the Deaf and instill a passion for knowledge in her students. Suzanne worked as a preschool teacher for the Deaf at the Preschool Center for the Sensory Impaired in Mobile, AL, for 3 years. Suzanne also worked part time as a special instructor/parent advisor in AIDB's Early Intervention program, working with several families who had infants and toddlers who were deaf. In 2009 Suzanne moved to Talladega, AL to teach preschool – 3rd grade at Alabama School for the Deaf.

Suzanne's 13 years of teaching experience in preschool and elementary classrooms for the deaf led her in a different career path, which involves working with Early Intervention and families. Suzanne's goal is to ensure that each child who is deaf and hard of hearing will be 'school-ready' with a strong foundation of language before enrolling in a preschool setting. When Suzanne is not at work, she enjoys reading and spending quality time with her family.

Abby Burke, Trainer

Abby Burke joined the REAL Project as a Trainer in July of 2020. Born and raised in the small town of Bainbridge, GA, she first discovered her love of languages, Spanish and ASL, in high school. During her youth apprenticeship, she discovered that she wanted to pursue a career in Audiology, Deaf Education, Speech Language Pathology, or ASL Interpreting.

Abby went on to graduate with a Bachelor of Science in Education from the University of Georgia with a focus on Communication Sciences. During her time at UGA, she continued to cultivate her ASL skills through ASL coursework and immersion. She then attended Valdosta State University where she completed an internship at AIDB and graduated with her Masters of Education in Communication Sciences.

Abby moved to Talladega in the summer of 2015 to begin her career as an Speech Language Pathologist (SLP) at the Alabama School for the Deaf. After 5 years as an SLP, Abby is transitioning to her role as a REAL Trainer for the Southeast Region. Abby's goal is to support families of children who are deaf or hard of hearing as they navigate through the first few years of life. In her free time, Abby enjoys spending time with her family and friends, traveling and being a Disney fanatic.

Suzanne Sayers, Administrative Assistant

Suzanne Sayers became the REAL Project Administrative Assistant in April 2020. Suzanne has been employed at the Alabama Institute for Deaf and Blind for 18 years. Suzanne's career at AIDB began in the Human Resource department before transferring to the E. H. Gentry Facility (EHG) where she worked for 7 years. E. H. Gentry is a training program/rehabilitation campus for Deaf, Blind and General Caseload clients where she enjoyed working with a very diverse population of clients through Adult Education, Independent Living, Assistive Technology, and Work Experience programs. Suzanne left EHG to join the staff of Alabama Industries for the Blind, which provides employment in the manufacturing field to individuals who are blind, visually impaired, Deaf, hard of hearing or multidisabled.

When Suzanne is not at work, she enjoys going to the lake for the weekend, spending time with family, and visiting her daughter in Destin, FL.

Mary Beth Grayson, Interpreter

Mary Beth Grayson joined the REAL Project in August 2020. Hailing from a small town in North Carolina, she's always had a passion for learning by travel and immersion in other cultures. After taking ASL in college she found an affinity for the language and community. She has been interpreting professionally since 2012, holding a Bachelor of Science in ASL-English Interpretation from Eastern Kentucky University and National Interpreter Certification through the Registry of Interpreters for the Deaf.

Before joining the REAL Project, Mary Beth lived in South Carolina where she experienced working in a variety of community and educational settings. She also served the South Carolina Registry of Interpreters for the Deaf on the Board of Directors as Vice President and, subsequently, as President. During her tenure she coordinated professional learning opportunities, collaborated with other state organizations for the Deaf, and participated in a task force for legislating interpreter standards.

Mary Beth is excited to be working as the REAL Project Interpreter, and supporting the program's initiatives in this role. She is a people person at heart and appreciates the opportunity to meet and work alongside other professionals. When she's not at work, she enjoys baking/cooking, watching documentaries, traveling abroad, and spending time with her husband and pets.