Return to Headlines
AIDB Names Trevor Kribbs as Principal at Alabama School for the Blind

NEWS RELEASE
FOR MORE INFORMATION CONTACT: Lynne Hanner, Director of Institutional Advancement, 256-761-3206, hanner.lynne@aidb.org
AIDB Names Trevor Kribbs as Principal at Alabama School for the Blind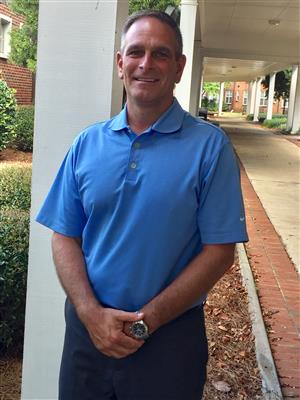 September 12, 2018 — Trevor Kribbs has been named Principal of AIDB's Alabama School for the Blind. Kribbs has served as principal of Berry High School, Ranburne High and Elementary Schools. He assumes his new role on September 17, succeeding Andy Keith who returned to Lincoln High School as Principal.
Kribbs is a graduate of West Georgia College where he earned a bachelor's degree in education and Jacksonville State University with a master's degree in administration.
His career in education began in 1995 as a teacher and coach at Chambers Academy in LaFayete. In 1997 he became a teacher and coached softball, basketball and football at Ranburne High School. In 2004 he began his tenure as Principal at Ranburne Elementary School and moved to the high school role in 2007. He has served as Principal at Berry High School since 2013. He also currently serves on the City Council in Ranburne.
The Alabama School for the Blind was established in 1867 as a component of the Alabama Institute for Deaf and Blind and offers accredited academic and vocational preparation for students with vision loss from preschool through 12th grade.
"My experience with AIDB goes back to my own high school years when we competed against the wrestling and football teams," said Mr. Kribbs. "I have been researching AIDB thoroughly and I am excited about this new challenge as Principal at Alabama School for the Blind.
Mrs. Vera Hendrix, Vice President of AIDB Instructional Programs, said "We are very pleased to welcome Mr. Kribbs to the AIDB family. Mr. Kribbs shares our commitment that students should look forward to every day's opportunity to learn."
"Empowering our students to achieve limitless outcomes in academics, athletics and career preparation is a priority for us at AIDB," said President Dr. John Mascia. "We welcome Mr. Kribbs to the AIDB leadership team and I am confident that his experience as a teacher, coach and administrator will be a valuable asset to our students and staff."
Alabama Institute for Deaf and Blind marks its 160th year of service to Alabamians with hearing and vision loss this year. AIDB serves almost 25,000 deaf and blind children and adults in all 67 counties through five campuses in Talladega and a network of regional centers located in Birmingham, Dothan, Huntsville, Mobile, Montgomery, Talladega, Tuscaloosa and Tuscumbia.