Return to Headlines
Merrill initiative to improve voting process for blind, visually impaired

NEWS RELEASE
FOR MORE INFORMATION CONTACT: Lynne Hanner, Director of Institutional Advancement, 256-761-3206; hanner.lynne@aidb.org
Merrill announces initiative to improve voting process for state's blind, visually impaired
September 21, 2018 – With the Alabama School for the Blind (ASB) auditorium as the backdrop, Alabama Secretary of State John Merrill announced a new initiative by his office to help voters with visual impairments have better experiences participating in state elections.
Speaking on Thursday, Sept. 20, Secretary Merrill told blind stakeholders in attendance Alabama voter guides would now be available in Braille. Also, he said election officials have been better trained in the use of the AutoMARK voting machine, which helps voters with visual impairments read and mark their ballot. Secretary Merrill was joined onstage by Alabama Institute for the Deaf and Blind (AIDB) President Dr. John Mascia, Clay Helms, the elections director in the Secretary of State's office, Joan Garrett, president of the Alabama Council for the Blind, and Barbara Eanuel, president of the National Federation of the Blind of Alabama.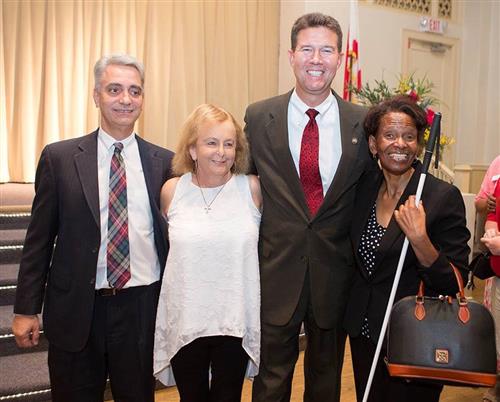 ASB students and staff were also guests at the event.
"Our goal of making it 'easy to vote and hard to cheat' applies to each and every Alabamian – including those who have physical challenges or disabilities," Secretary Merrill said. "To ensure we accomplished meeting the needs of these constituents in the most effective manner possible, I asked my team to host a meeting with the state's many advocacy groups for the blind and visually impaired. During this meeting, the representatives of these groups suggested several changes that could be made to dramatically improve the ability of voters with visual impairments to participate in the electoral process."
Mascia saluted the effort to help clear the way for the more than 145,000 Alabamians who are blind or visually impaired to more easily exercise their Constitutional right to vote.
"We are so appreciative that Secretary Merrill and Mr. Helms would take the initiative to look into this and begin these proactive steps to address accessibility issues in the voting process for blind and visually impaired individuals in our state," Mascia said. "Voting is a civic duty every American should undertake, and they should be able to do so without impediment. This effort by Secretary Merrill and Mr. Helms sends a clear message that they are committed to ensuring the right to vote of all citizens of our state."
The meeting with representatives of advocacy groups such as the National Federation of the Blind of Alabama and the Alabama Council for the Blind happened earlier this year, and the idea for the new election material began as a result of that partnership.
"We appreciate these groups working with us to be part of a solution, especially for providing the materials to the state free of charge," Secretary Merrill said. "They are uniquely positioned to understand this issue and help us solve it, and that's why we wanted to sit down and listen to their ideas. This is a great example of how government agencies and private groups can work together, and we want to thank them for their help and support. "
The list of voting materials that have been transcribed into braille by the Alabama Instructional Resource Center for the Blind includes the Alabama Photo Voter ID Guide, Alabama Voter Guide 2018, Alabama Polling Official Guide 2018 and the Alabama absentee ballot application. Copies of these documents will be distributed to braille readers throughout the state by a network of libraries for the blind and physically handicapped located in Talladega, Montgomery and Huntsville. Additional copies may be requested by calling Teresa Lacy, Director of the Alabama Instructional Resource Center for the Blind, at 256-761-3237 or e-mailing lacy.teresa@aidb.org.
Secretary Merrill urged anyone who has issues with voting due to physical impairment to call their local probate judge's office or the Secretary of State's office at (334) 242-7200.
---
Alabama Institute for Deaf and Blind marks its 160th year of service to Alabamians with hearing and vision loss this year. AIDB serves almost 25,000 deaf and blind children and adults in all 67 counties through five campuses in Talladega and a network of regional centers located in Birmingham, Dothan, Huntsville, Mobile, Montgomery, Talladega, Tuscaloosa and Tuscumbia.