Return to Headlines
2018 Milton J. Samuelson Career Achievement Award winner named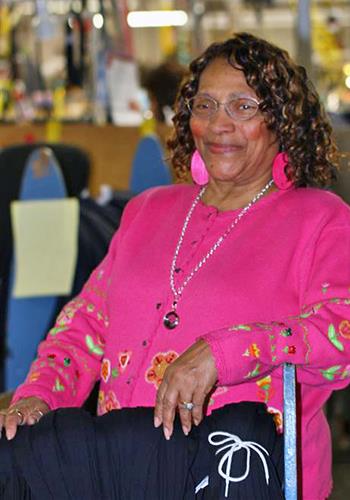 Ms. Rushie Cochran received the Alabama Industries for the Blind (AIB) 2018 Milton J. Samuelson Career Achievement Award and was honored at the annual Blind Worker of the Year Luncheon on Friday, April 6, 2018. The Milton J. Samuelson Career Achievement Award is presented annually by AIB to honor a person who is legally blind and employed in an indirect labor position.
Rushie Cochran received commendations from the Alabama Legislature and the City of Talladega.
Rushie was born to Mr. Noah and Mrs. Elizabeth Lewis in July 1945, with vision problems at birth. She was one of 3 children.
Rushie attended Florida School for the Blind where she was on the track team, winning many 1st place trophies. She was also a member of the school choir, where they visited many churches to perform and also performed on TV. Rushie graduated in 1966 and moved to Talladega, AL for training as a Switch Board Operator.
Rushie married Roosevelt Cochran in June of 1967, and they had one child. She remained a house wife for 3 years, then returned for Machine Operator training in 1970. Rushie was employed as a production worker in 1971. She has worked in various departments of production, and the role of Switch Board Operator for E H Gentry, AIB and Rehab for 14 years.
Rushie was employed in the AIB store, and supervisor of the Ladies Club, later becoming Supervisor for Mattress Covers, and Neckties, where she is currently. Ms. Cochran has 46 years of service, with 24 years as a Supervisor.
Ms. Cochran has attended Belleview Missionary Baptist Church for 37 years, where Timothy E. Caldwell serves as Minister. She has served as Usher, member of the Inspirational Voice Choir, Matron and Missionary.
Rushie will travel to Arlington, Virginia in April to represent AIB at the 2018 National Industries for the Blind / National Association for the Employment of People Who Are Blind National Conference and Expo.