AIDB Marianna Greene Henry Special Equestrians Foundation
CASH: send check or money order to AIDB Foundation, P.O. Box 698, Talladega, AL 35161

ONLINE DONATIONS: Go to our secure online donation form below and use a credit card to make a one-time or recurring monthly gift.

MGH Special Equestrians Legacy Brick Progam: The brick campaign is an opportunity to honor or memorialize a loved one, veteran or active serviceman with a personalized inscription on a brick paver. Bricks are laid in a special location at the MGH arena. For veterans and active servicemen, the bricks are placed around the new flagpole at the entry of the arena. CLICK HERE for the Legacy Brick Progam form

GIFTS-IN-KIND: Donations of equipment, horses, feed, land or other valuables that can be used or sold to support the program. CLICK HERE to donate GIK items

DEFERRED GIVING: Many people remember charities in their wills by leaving property, insurance benefits, income-producing trusts or a combination of these. Contact the Office of Institutional Advancement at 256-761-3202

PLANNING YOUR YEAR-END GIVING: Any time is the ideal time to make a charitable gift to the MGH Foundation. So as you plan your year-end giving, please consider contributing to one of our charitable accounts available through the MGH Foundation.

ENDOWMENTS: Donors may wish to establish an endowment or add to an existing endowment. Endowment funds are a bulk sum of money, the principle of which is not used. Each endowment accumulates interest over time and only the profit made from that interest is spent. This means your gift keeps giving continuously without ever exhausting the principle! What's more, any pledge to the endowment fund of $10,000 or more entitles the donor to a separate endowment fund named in honor of either themselves or a loved one. If you would like additional information about endowment funds, feel free to contact Tim Greene at 256-761-3364 or The Office of Institutional Advancement at 256-761-3202.

CAPITAL FUND: This fund is specifically dedicated to ensuring that the resources needed to maintain optimal daily operations are always available. These funds can also be put towards expanding, restoring, or replacing existing structures or equipment. General operating expenses are constantly rising as our program continues to thrive and donors are encouraged to make tax-deductible contributions to support these growing needs.

RIDER & HORSE SPONSORSHIPS: Through our Adopt-A-Rider/Horse sponsorship, donors can sponsor one or more students per year, or forever through multiple giving options. With a gift of $1,000.00 per year, you can sponsor a horse and for $250.00 per year, you can sponsor a rider. Opportunities are also available to endow a rider forever by creating a named sponsorship through a planned gift to MGH.

When you adopt a rider, you are helping him or her grow stronger in his or her skills and confidence. The adoption of a horse helps us to pay for veterinary services, farrier services, feed and any other expenses that may arise. We promise complete satisfaction!

Please call Arena Coordinator Tim Greene at 256-761-3364 to find out how YOU can make a difference in the life of a child!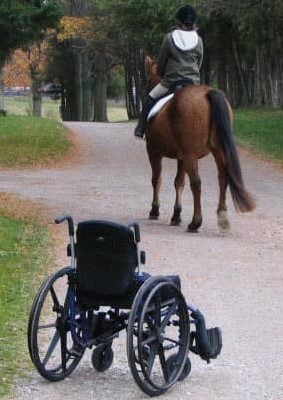 Why Support Us?
The MGH Foundation is a subsidiary of the Alabama Institute for the Deaf and Blind Foundation (AIDBF) that provides children who are deaf, blind, DeafBlind and multi disabled with equine-assisted therapy. This program is nationally recognized annually serving over 350 children with therapy services from professional therapist, staff and volunteers along with assistance from horses. Let me share with you a few of the many examples of how hippo therapy and equine-assisted mental health therapy has impacted the students of AIDB.

A four-year-old little girl communicated for the first time by clapping her hands, signaling her horse to "go"!
After months of fear and barely touching the therapy horse; Michael a visually impaired student, rode the horse gaining strength, courage and above all self-confidence.
Sam, a young boy who did not have the balance to walk from concrete to gravel, began walking and even climbing steps, without assistance from a horse's movement using hippo therapy!