Return to Headlines
Alabama School for the Deaf Team Wins Underwater Robotics Competition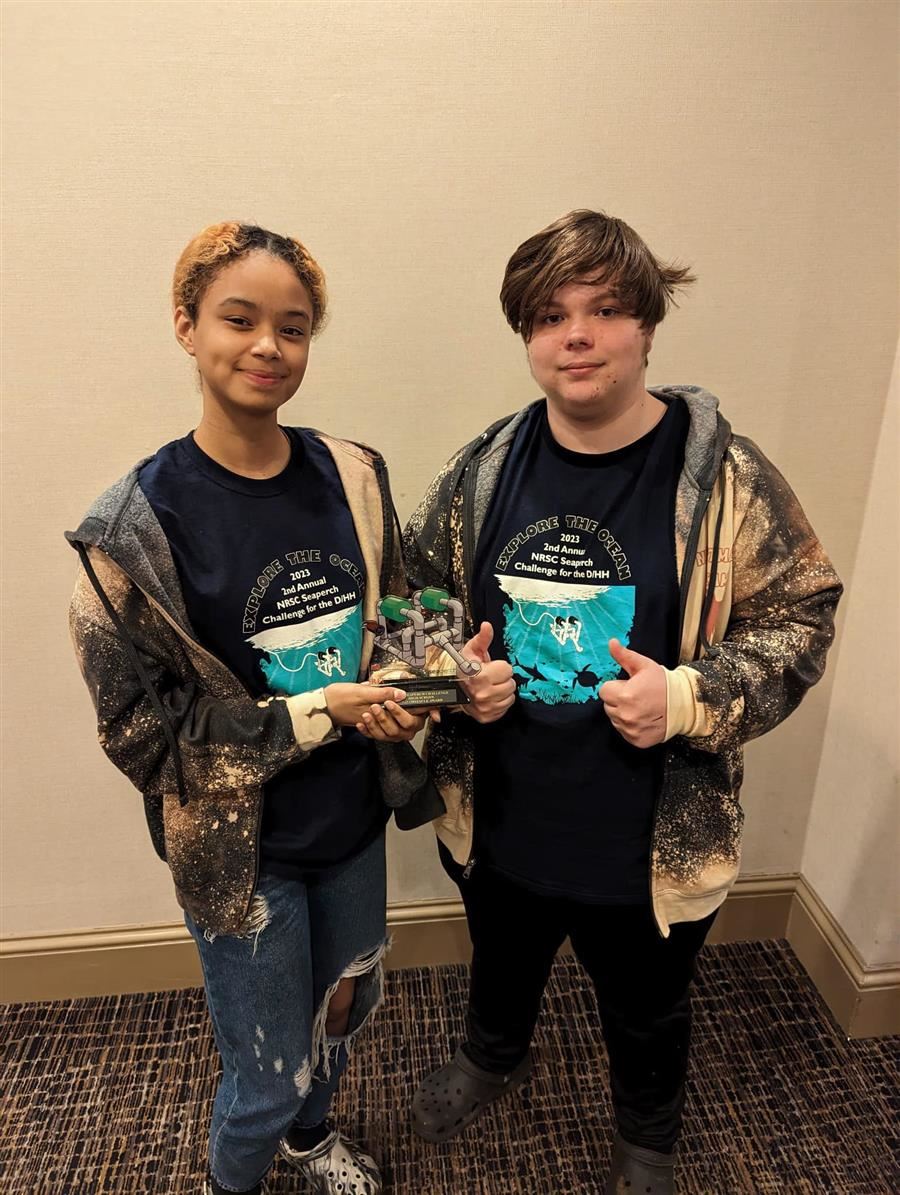 Students Melika Washington and Brayden Weeks from Alabama School for the Deaf won top honors at the 2023 International Deaf/HH SeaPerch Challenge in Simsbury, Connecticut.
"It was extremely fun for my first time competing in the underwater robotics competition!" said Brayden.
"I feel so blessed!" Malika agreed.
This year's SeaPerch competition theme was underwater exploration. Navy Divers from the Naval Submarine Base New London and staff from the Submarine Force Museum were onsite assisting with the event. The National Technical Institute for the Deaf (NTID) Regional STEM Center, a program housed at Alabama Institute for Deaf and Blind (AIDB) and created in collaboration between AIDB and NTID, sponsored the competition for the second year in a row.
This year's competition saw 21 middle and 19 high school teams participating. As one of the top teams, Melika and Brayden secured a spot at the International SeaPerch Competition to be held at The University of Maryland on May 13th.
"I was so impressed with how well Brayden and Melika did for their first time competing," said Brandi McIntyre, Underwater Robotics Coach and High School Science Teacher, Alabama School for the Deaf. "We are a new team and didn't know what to expect, which led to a rocky start on the Obstacle Course Challenge. The students were given two attempts at the course and in between trials, we huddled together and talked about our strategy. We all shared tips and ways to improve before the next trial. Brayden and Melika took those to heart and shaved 5 minutes off their second attempt which allowed them to get first place in the Obstacle Course Challenge! We were thrilled at how well they did!"
SeaPerch aims to reduce traditional barriers to participation in robotics programs and promotes opportunities to engage students and educators in inquiry-based learning with real-world applications. As an educational program, SeaPerch introduces students to basic engineering, design, and science concepts. As a fun hands-on project, SeaPerch engages students and fosters key 21st-century skills including critical thinking, collaboration, and creativity.
"STEM education for children goes beyond science and mathematics concepts," said Jason Roop, Director, NTID Regional STEM Center. "The skills gleaned from hands-on learning with real-world applications include creativity, social skills, communication, flexibility, problem-solving, decision-making, acceptance of failure, and more. The SeaPerch challenge where students apply the concepts of the science behind water and buoyancy in the development of their underwater remote-operated vehicle required them to work together as a team, communicate design concepts, and troubleshoot buoyancy issues and electrical issues is one of many opportunities NTID Regional STEM Center offers in developing those skills."
The tournament was made possible through a collaboration with Alabama Institute for Deaf and Blind, National Technical Institute for the Deaf, and American School for the Deaf. The tournament provided students who are deaf or hard of hearing the opportunity to showcase their skills and meet peers from across the country.