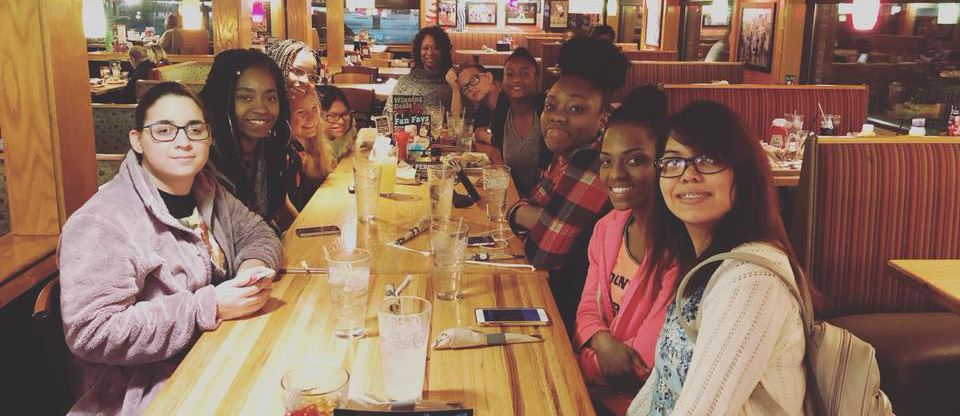 At Alabama School for the Deaf, there's as much going on after school as there is during school hours. And it's all about learning. The residential aspect of ASD is a major factor in helping our students learn how to respect themselves, their peers and their community. For some students, it's the first time they've spent much time at all with people who are deaf or hard of hearing. They learn that they are just as able as anyone else. It may be the first time students have much contact with adults who are deaf or hard of hearing, too — so they begin to learn what they can dream about, what goals they can achieve.

In the process of all this learning, they are playing on the playground, swimming, skating, bowling or doing arts and crafts. They may be making a trip to the Hackney Play Therapy Center on the Helen Keller School campus where they can crawl through tunnels and wiggle through obstacles or play in a big pit filled with brightly colored plastic balls. This Center is a physical therapy facility, but it's so much fun going through the mazes and slides and playing in the ball pit, our youngest students go there just to enjoy it.

Positive peer groups meet to encourage students to work together. Outdoor gardening skills can be explored with a small group of friends. Big Brothers Big Sisters is active on campus. Dorm activities include weight lifting and walking, and informal talks on topics like social issues and jobs that are available. A friendly competition between different dorms called "Dorm Wars" lets students collect points for grades and behavior to win big prizes and trophies after school. Each dorm celebrates birthdays and other special occasions. Dances, field trips and activities fill up the afternoons, with at least an hour every evening reserved for homework and study.

Clubs and activities build leadership skills and nurture the beginnings of lifelong friendships. The Space Explorers Club, Scouting for girls and boys, Junior National Association of the Deaf, Student Body Government, Junior Beta Club, Big Brothers Big Sisters, Beta Club and class organizations address just about any interest a student might have.

Dorm Night Programs

Dorm Night Programs provided by the Student Development Department of Alabama School for the Deaf cover a wide variety of topics and are designed to bring real life knowledge to our students.

Parents are invited to attend our Dorm Night Programs, hosted in the Gilchrist Room of the Student Center, which is downstairs below the basketball gymnasiums.

We look forward to seeing parents at any and all of the programs they are able to attend.

Big Brothers Big Sisters Program

The Big Brothers Big Sisters Program has been around for a long time here at Alabama School for the Deaf. It is a pleasant and rewarding program for both the older students and the younger students who are involved. This year we have two groups of older students. One group meets with younger ones on Tuesdays and the other group is our Wednesday night group. We are meeting with the younger girl students in Mary Leonard Hall on Tuesdays, and Wednesday's group meets with the slightly older girls in Graves Hall West dormitory. After about six weeks of meeting with these two dorms we will change during the week of October 2nd to Weaver Cottage. our youngest dorm on campus, on Tuesdays and our Wednesday Big Brothers Big Sisters team will visit with Taylor Hall, the younger boy's dorm. Then second semester we will go back to Mary Leonard Hall on Tuesdays and Graves Hall West on Wednesdays. And by March we will return to Weaver Cottage and Taylor Hall. Our activities vary from playing board games or softball, doing art projects, walking/racing around the track and even some educational nights of spelling bees and math contests. At the end of the year, in celebration of a job well done the Big Brothers Big Sisters gather in the Snack Bar for an annual pizza party and reflect on their commitment for the year in helping as role models to our younger students. We are always proud of their year-long commitment to work with the younger students.

Junior NAD

The Junior NAD, a program of the National Association of the Deaf, offers deaf and hard of hearing students in 7th-12th grades opportunities to develop leadership skills, learn and demonstrate citizenship, and meet and interact with students from other schools and states. Our Junior NAD chapter focuses on advocacy, attitude, awareness, commitment, cooperation, friendship, information exchange, involvement and leadership skills. We have meetings and participate in many activities such as community events and fundraisers. Skills and values obtained by chapter members during these meetings and events will help them to become future leaders and advocates in the deaf and hard of hearing community.