Return to Headlines
Clear Roads Ahead for Trucker Who is Deaf, as EHG Paves Road to Success
Clear Roads Ahead for Trucker Who is Deaf, as EHG Paves Road to Success
Joey Woodle of Scottsboro has always known he wanted to drive the big trucks. Surrounded by family members – including his dad, brother, cousin and uncle – involved in trucking and big machinery in the field of LP gas and propane, Joey always found himself fascinated with the mechanics and lifestyle of trucking.
However, as a young man, when he asked if he could work driving a truck, he was told, "You can't. You're deaf." Upon asking around, he discovered that in order to obtain a Commercial Driver's License (CDL) to drive a truck, he had to pass a 'whisper test' – a requirement by the Department of Transportation (DOT) that the applicant be able to hear a forced whisper at no less than five feet. Woodle states, "I can't hear that far away and hearing aids bother me."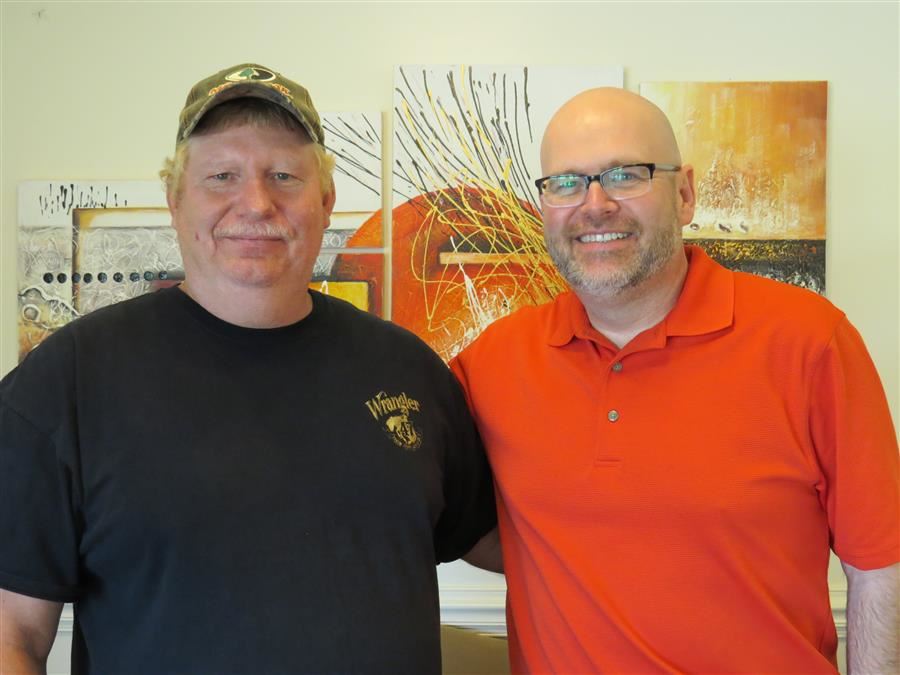 After accepting that, he decided, while he couldn't drive, he could ride. After getting permission from his parents, Joey began riding along on trucking trips with his father and brother, who are hearing. Thus, Joey was able to travel to different states – an aspect of the trucking lifestyle that he enjoyed and found compelling.
Despite being allowed to ride, the lure of driving a rig continued to call to Joey. "My brother, David, let me drive a little bit and I really liked it – it was really cool. I decided I wanted to do that for a company. I worked at a sock manufacturer and they had trucks and I would just watch the forklift loading and unloading pallets onto trucks. I'd look at the body of the truck and ask myself how I could do that. I wanted to drive a truck!"
In 2011, the National Association of the Deaf (NAD) began the process of filing exemption applications to the DOT to waive the hearing requirements for drivers with safe driving records who are deaf or hard of hearing. In 2013, the exemptions were finally allowed opening the doors for drivers who are deaf or hard of hearing to pursue careers in driving commercial vehicles.
Joey says he was shocked one day in 2013 upon looking at the NAD website. He called Liz Spiller, Easter Seals interpreter, to ask some questions he had upon reading the site. She told him the words he always wanted to hear in regards to pursuing a career in trucking: "Yes. You can. Deaf and hard of hearing? Yes - you can." A surprised Joey asked, "How? Explain it to me – will Vocational Rehab (VR) help? What are the options? I had no idea!" He sent his name, history and medical information to Harry Hollingsworth, deaf support specialist, and Quentin Morris, my ADRS counselor, and they sent it to the National Association of the Deaf (NAD).
"My Dad and I talked back and forth about driving trucks. My cousin has a one, and I'd take it and practice – not on the road – and I'd drive it around. I told him, 'I like this. You're lucky that you have this. I want to do this in the future.'"
Woodle learned about the Truck Driver Training Program at Central Alabama Community College (CACC) and spoke with Melvin Walker at AIDB's E. H. Gentry Facility (EHG) to see how EHG's newly created Transportation Services could help Joey successfully traverse the journey toward enrolling in CACC's program.
EHG worked hard to create a successful and customized program for its first EHG Transportation Services student. EHG provided teachers, staff, dormitory, facilities, technology and meals to make Joey successful in his goals.
"I like Gentry, it's a wonderful place. It helped me."
There are three parts to acquiring a CDL license: air brakes, combination and general knowledge. After receiving a hearing waiver and clearance, Joey passed the air brakes and combination exams. Then Joey embarked on a rigorous 14-month study at EHG under the tutelage of teacher Carolyn Jones in order to pass the general knowledge portion of the exams. After passing these, he could then register for CACC where he would finally take the road skills course.
Carolyn worked one-on-one with Joey for 14 months, during which time she created a PowerPoint matching words to images, such as "coil" and a picture of a coil. After Joey learned more than 400 vocabulary words, she pulled sample questions from the 400-500 questions he could encounter on the exam. Daily reviewing each question one-by-one together, Joey would then go home and study off a laptop he got in order to study at home.
AIDB's Alabama School for the Deaf staff member Susan Wilson, who has her CDL, came in after Carolyn Jones retired and finished helping Joey review all the verbiage and vocabulary he needed. Finally, Joey took the test and passed and was able to enroll in CACC's Truck Driver Training Program to take the 6-week road skills course.
Every Monday-Thursday for six weeks, Joey was picked up at 5:45 a.m. from his EHG dorm in Talladega and rode to CACC in Alex City where he would spend all day in road skills class with teacher Willie Brooks before returning to EHG around 7 p.m. Due to the early and late departure and arrival, EHG dorm and cafeteria staff worked every day to ensure his meals were prepared and supplied for his next day's class.
On Fridays, Joey met with EHG teacher Amy Locke, who took Carolyn Jones's position. Amy and Joey would work together on trucking class requirements like the log book, and Amy would type up what Joey had done that week for his progress report.
On May 9, 2018, at 50 years of age, despite having been told early in life that he would never drive a big rig due to his hearing, Joey accomplished his lifelong dream, completing his course at CACC and finally obtaining his CDL.
What's next for Joey? Work. He expects a call from Shaffer Trucking, one of the two companies with a history of hiring deaf drivers who were contacted by CACC instructor Willie Brooks about Joey.
Joey would like to emphasize to other students and pursuers of dreams: Be patient. Joey patiently worked and studied at EHG for 14 months, did not give up and focused on the work at hand to accomplish his vision for his Limitless future.
AIDB. Deaf. Blind. Limitless.