Services for the DeafBlind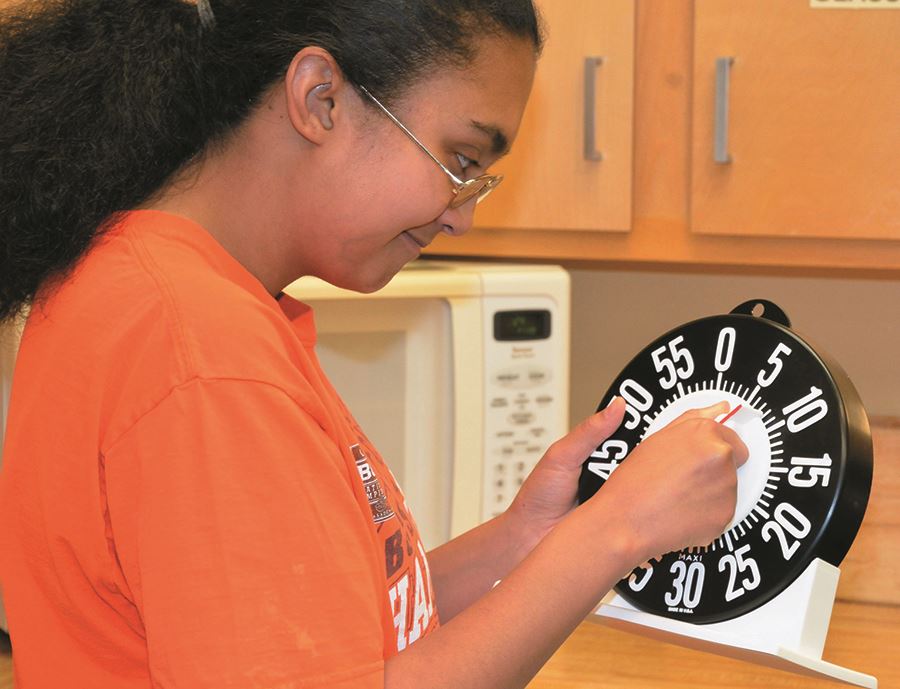 Students who have both a hearing and vision loss receive specialized instruction within Gentry's DeafBlind Services. Often individuals require instruction to adjust to a sudden or new vision/hearing issue due to a medical condition or injury, while others may experience issues related to a progressive decline in their vision or hearing. Whether their goals are employment or acquiring or improving independent living skills, students participate in classes designed to address their unique needs. Gentry can assist in developing skills and work habits needed to compete for a job and/or improve the quality of their lives. The Assistive Technology Department plays a critical role in the assessment process to determine the most appropriate and latest adaptive equipment for DeafBlind clients.

Each client's unique needs are assessed during an initial evaluation and a program is designed which may include:

Alabama Certified Workers Certification- AIDT- "Ready to Work" – Allows students to develop their vocabulary, knowledge, and communication skills for the workplace.ACT WorkKeys- applied math, workplace documents, and graphic literacy skills.

Technology Basics-Document Management, Information Curation, Working online, Social Networking, Virtual Team Tools, and Productivity Tools skills

FDIC- Money Management skills

FEMA- Active Shooter, FEMA-Cultural Diversity, FEMA-Truckers Against Trafficking

Communication- Non-verbal Skills, Verbal Skills, and Working in Teams skills

Workplace Behaviors- Diversity, Workplace Violence, Sexual Harassment, Ethics, and Safety skills

Problem Solving- "Six-Steps", Decision making, Time Management, Negotiation, and Conflict Resolution skills


Job Prep- Career Exploration, Job Application, Resume Writing and Interviewing skills

Alternative Communication - DeafBlind individuals encounter a greater degree of isolation; therefore, instruction to develop an alternative communication system is often required to reduce loneliness and provide access to information. Gentry students are assessed and encouraged to learn one or more alternative modes of communication such as tactile sign language, Pro-tactile, Haptics, Braille, raised alphabet cards, print-on-palm, and Braille-to-print devices.

Digital Literacy - We offer opportunities for students to earn NorthStar Digital Literacy certifications. Under NorthStar, students can earn certifications ranging from basic computer and internet usage to more specific Microsoft, Mac, and Google certifications.

Adaptive Independent Living - Personal Management teaches skills needed for self-care by instructors who are knowledgeable of the unique needs of DeafBlind individuals. Individual, group, and medical counseling related to health issues such as diabetes management are provided by counselors, nurses, and ILS/VRT instructors. Home management skills may be taught by either ILS Instructors for the Deaf or DeafBlind or Vision Rehabilitation Therapist for the Blind, depending on the communication needs and residual sight of the consumer. Emphasis is placed on acquiring skills needed for independence and students are taught within specially equipped kitchens which specifically accommodate their hearing, vision, and communication needs.

Computer Instruction and Adaptive Technology - The unique needs of individuals with hearing and vision losses vary greatly depending on their vision and hearing loss plus their communication needs. Instructional and adjustment programs may be designed and taught within Gentry's ATB or ATD computer labs. The staff of both departments facilitate the purchase and use of equipment which will meet the needs of the student within the home and/or workplace settings.

Orientation and Mobility - After an initial assessment, further instruction in this area may be indicated for students who need to develop mobility skills. Varying levels of instruction include basic mobility, such as the introduction to the use of a long cane to navigate the hallways and campus of E.H Gentry. More advanced skills include residential and business travel and how to access public transportation. In addition, O&M training may be recommended during evening hours, if clients experience medical issues related to night blindness.

Job development - DeafBlind individuals often lose employment due to worsening conditions related to their vision and hearing. Job development may include adaptive technology which can assist clients in keeping or returning to a former job. If this is not an option, then alternative career pathways may be explored. Employment specialists, job coaches, and job developers design training programs that promote independence through employment.

MAPS (Mobilizing Alabama Pathways) Certifications

Architecture and Construction

Healthcare

Information Technology

Manufacturing


Transportation and Logistics

WorkKeys® /Career Readiness Certification - Gentry provides remediation in the core WorkKeys® areas of Applied Mathematics, Locating Information and Reading for Information. A student who earns a WorkKeys® level of 3 or greater in each of these areas qualifies for an Alabama Career Readiness Certificate. A work readiness certificate is a credential that documents an individual's WorkKeys® scores for prospective employers.