Return to Headlines
AIDB named one of 200 Alabama Bicentennial Schools

NEWS RELEASE
FOR MORE INFORMATION CONTACT: Lynne Hanner, Director of Institutional Advancement, 256-761-3206; hanner.lynne@aidb.org
AIDB named one of 200 Alabama Bicentennial Schools, receives grant for gardening project
Aug. 8, 2018 – The Alabama Institute for Deaf and Blind (AIDB) is one of 200 schools statewide to be named an official Alabama Bicentennial School and has received an accompanying $4,000 grant to fund a campus beautification, landscaping and gardening project.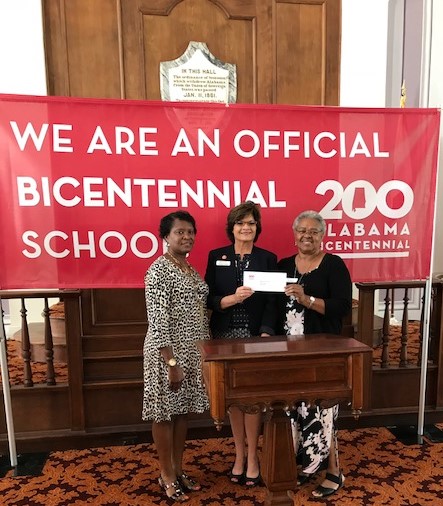 Launched by Governor Kay Ivey in December 2017, the Alabama Bicentennial Schools Initiative encourages all public, private, and homeschool students and teachers to participate in the celebration of Alabama's 200th anniversary of statehood in 2019. In early 2018, all K-12 schools in Alabama were invited to submit a proposal to engage in outreach and improvement projects to connect their classrooms with their local communities.
From a competitive pool of nearly 400 proposals, 200 schools were selected as official Alabama Bicentennial Schools. Additionally, 56 schools received honorable mentions and $500 grants. Schools were chosen through a review process involving committees of local educators, community leaders, and private citizens.
AIDB's project will consist of the development of a small, accessible community garden on the grounds of a new supportive housing program in the city of Talladega. The housing program is a collaborative effort between AIDB and the Presbyterian Home for Children and provides safe and affordable housing to Deaf and blind individuals.
The project will be implemented by the agriculture classes on the Alabama School for the Blind (ASB), Alabama School for the Deaf (ASD) and Helen Keller School of Alabama (HKS) campuses as part of their common core and expanded core curriculums.
"We are extremely honored to be chosen as an Alabama Bicentennial School," AIDB President Dr. John Mascia said. "This project will directly correlate with our current initiatives which include the development of the Joe Tom Armbrester Agricultural Center. Through this Center we will increase opportunities for AIDB students and clients as well as others in Talladega and surrounding communities to learn more about farming and agriculture through hands-on experiences that will promote independent living."
Having students make meaningful contributions to their local communities is the key component of the Bicentennial Schools initiative, Governor Ivey said.
"The Bicentennial Schools Initiative is not only a special way for students to take part in celebrating our 200 years of statehood, but also an opportunity for them to engage within their communities," said Governor Ivey. "It fosters a love for the state they call home, and it instills in them the courage to make a difference."
The Alabama Bicentennial Schools Initiative is presented in partnership by Alabama 200, the Alabama Department of Archives and History (ADAH), and the Alabama State Department of Education (ALSDE).
For a complete list of official Bicentennial Schools or for more information, visit www.alabama200.org.
---
Alabama Institute for Deaf and Blind marks its 160th year of service to Alabamians with hearing and vision loss this year. AIDB serves almost 25,000 deaf and blind children and adults in all 67 counties through five campuses in Talladega and a network of regional centers located in Birmingham, Dothan, Huntsville, Mobile, Montgomery, Talladega, Tuscaloosa and Tuscumbia.
The Alabama Institute for Deaf and Blind Foundation is a 501 (c) 3 nonprofit organization created in 1980 to encourage private support for AIDB's charitable, educational, research and training programs. The Foundation provides funding for a vast array of programs and projects at AIDB including major construction and renovation of facilities, development of new and expanding programs and experiences in professional development, academics, student life, outreach, and the arts. The AIDB Hawkins Chapel and the Marianna Greene Henry Special Equestrian Arena are also funded through the AIDB Foundation. Endowment opportunities exist in seven major areas.