Return to Headlines
Dr. Mascia Awarded NASS Medallion Award
Dr. Mascia Awarded NASS Medallion Award
Alabama Secretary of State John Merrill visited the AIDB campus on January 28, to present the NASS Medallion Award to AIDB President Dr. John Mascia. The NASS Medallion Award allows individual Secretaries of State to recognize outstanding service and dedication to further the mission of the National Association of Secretaries of State (NASS) within the states. According to Secretary Merrill, Dr. Mascia received the award to recognize his "outstanding service and dedication. It is easy to recognize someone as selfless as Dr. Mascia"
Merrill contacted Dr. Mascia over a year ago when his office was contacted by an advocacy group for people who are blind or have low vision. "When I heard from the advocacy group my first thought was to call my friend, John Mascia. He not only welcomed the idea, but he used the resources available to him here at AIDB to make it happen."
While Dr. Mascia knew about the award, he thought the award would be presented to AIDB and not him personally. "I am humbled", said Dr. Mascia. "I just represent the people in this room, the students, the teachers, the trustees. A leader is only as good as the people around him, and I am surrounded by the best."
During the award presentation Jerry McKee, Case Manager for the Blind at EH Gentry, and Justin Louis, a deaf student at EH Gentry, shared what it means to them to be able to vote in elections and how AIDB has helped them do the thing – like voting – that so many take for granted.
"Voting is a privilege," said McKee. "I'll never forget the first time I went to vote. When I got there a man said, 'There's a machine over there and we'll have to set it up… if it even works, we haven't used it yet'. That day I felt like I was a nuisance. Having to relay my vote to someone I didn't know and hoping they were marking the candidate I wanted to vote for made me feel very inferior. I called Secretary Merrill and he helped us make sure we could vote in the next election."
Louis graduated from the Alabama School for the Blind and is now enrolled in the college prep program for adults at EH Gentry and will soon begin dual enrollment by taking classes at Central Alabama Community College. "EGH has helped me improve my independent living skills, things like time and money management and how to balance school with a part time job," Louis said. "I work two or three nights a week at Honda and go to school. My dream is to be a manager at Honda. It feels good to be able to be a successful adult."
According to Louis, AIDB has given him a better understanding of what it means to be limitless. "I know what it means to be limitless. In life, at work – I have nothing holding me back.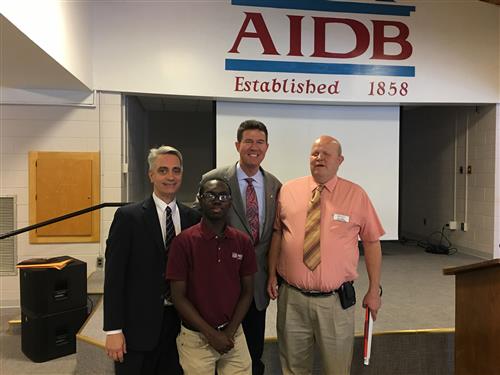 AIDB President Dr. John Mascia with ASD graduate and current EH Gentry student, Justin Louis, Alabama Secretary of State John Merrill, and ASB graduate and Case Manager for the Blind at EH Gentry, Jerry McKee
Cover Photo by Tucker Webb / The Daily Home
Group Photo by Jacque Cordle / AIDB