Return to Headlines
Structured Discovery Graduate Joins AIDB Team
Today is a red letter day for Sandre Tyler.
She started her new job as the Residential Manager for the Structured Discovery Program at the Alabama Freedom Center for the Blind. She knows firsthand that the program works – she graduated last Friday!
"I lost my vision four and a half years ago and I thought life was over for me," said Sandre. But this independent lady who had worked all her life and raised three children on her own fought to regain her confidence and the ability to live without limits.
"When I lost my sight it was devastating for me." But she enrolled in the Structured Discovery Program, part of AIDB's Birmingham Regional Center. It's a nine-month, residential program that fosters confidence-building techniques by moving students who are low vision and blind from instructor-guided learning into an environment focused on personal skills that define independence in travel, technology, daily living and job skills.
"When I signed up for the program, I wanted to learn the technology," said Sandre. "I'm an awesome cook and I wanted to learn to do that too. But I couldn't cook for just one person. It's a requirement of the program that we prepare a meal for 20 people. At age 57, I felt like a wilted flower coming to life again!"
Sandre couldn't wait to graduate and start living her "new normal life" on her own. So, just two day after graduating, she' working again. And in her new job it's a life she will share with others facing the same journey that she did – and she will be there to provide inspiration and encouragement.
"It's limitless!" said Sandre. "I can stand tall and say I'm blind and I'm loving life, living life to the fullest."
To learn more about the Structured Discovery Program, call 205-328-3989 or visit www.aidb.org.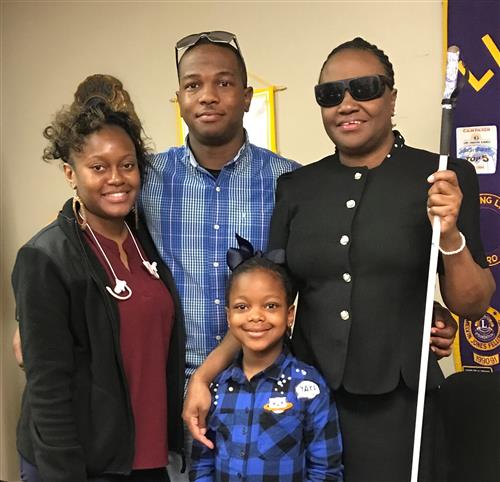 Sandre with her family at the Structured Discovery graduation.