Return to Headlines
Lindsey Jones: A Limitless Journey
Lindsey Jones: A Limitless Journey
At one of the many talks Lindsey Jones has made to school children over the last several years, a young girl asked her a question many others might have had a hard time answering. "She asked me if I ever wished I had never gotten cancer and been blind," Lindsey said. "I said 'no' because going through cancer has taught me that the small things in life are just that, and just because a person can't see doesn't mean they can't do things. With God and a positive attitude, you can accomplish anything in life."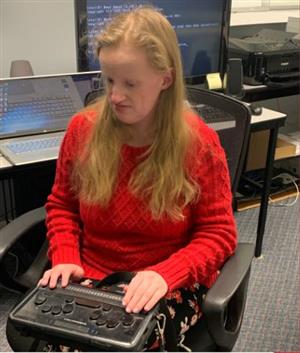 Lindsey, who recently completed an internship with the Alabama Institute for Deaf and Blind (AIDB) Regional Center in Huntsville, is truly a shining example of someone who has maintained a clear vision for life despite losing their sight. She was almost 4 years old when she was diagnosed with Rhabdomyosarcoma, a rare form of childhood cancer usually found only in teenage boys. The aggressive disease caused a tumor the size of a lemon to form behind her sinuses, and that pressed on her optic nerve until her blindness became total.
Lindsey had to undergo many months of chemotherapy and radiation treatments to fight the cancer. She was sicker than any little girl should ever have to be and, for four months, she couldn't walk. Yet, Lindsey remained undaunted.
As a youngster, she took tap and ballet lessons and developed a love of music and singing. In elementary school, she participated in Girl Scouts, 4H and more. As a high schooler, she was an active member of the Key Club, the Scholar's Bowl Team and the Student Government Association. Now she is a 20-year cancer survivor and on track to receive her Master's degree in clinical rehabilitation counseling from Auburn University in August 2021.
"I want to live life to its fullest," Lindsey said. "Why be sad when you can be happy?"
She is appreciative of her association with AIDB and particularly her time as an intern because it has helped solidify her choice of career paths in her own mind.
"I realize now even more that this is the field I want to go into," Lindsey said. "I want to bring hope to others, and I can do that as a counselor. I think the bond will be even stronger with my clients because they will know that I have been where they are."
After seeing it from the inside, she understands even better how AIDB truly makes those it serves feel limitless.
"Everyone at AIDB has so much compassion," Lindsey said. "They give back so much, and getting the inside perspective on how they go the extra mile has truly been special for me."