Return to Headlines
AIDB's Vera Hendrix Honored as Woman Who Shapes the State
Alabama Institute for Deaf and Blind's Vera Hendrix recognized among
"Women Who Shape the State"
Vera Hend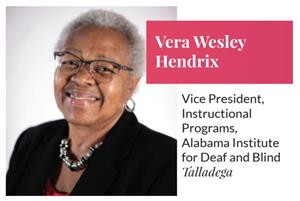 rix, Vice President of Instructional Programs at Alabama Institute for Deaf and Blind (AIDB), has been named one of the "Women Who Shape the State." The annual award, presented by Alabama Media Group and its affiliate, This is Alabama, spotlights women who are making a difference in the state across a broad spectrum of fields and missions.
More than 150 women were nominated for the award. A panel of Alabama Media Group leaders and journalists reviewed the nominations and selected the 25 honorees, who are being recognized on the This is Alabama website and in The Birmingham News, Mobile Press-Register and The Huntsville Times.

"I am honored to be recognized alongside these women who are doing great work to shape the state of Alabama. I began my education career at AIDB in 1977 and found that working with students, and supporting them as they worked to achieve their potential, to be one of the greatest parts of my career," said Hendrix.

When asked what advice Hendrix would give she said, "Know your purpose. Your purpose will drive your destiny. Remember to pay it forward and always be willing to give back. Trust God and His guidance."

"Ms. Hendrix is a gifted educator and administrator," said Dr. John Mascia, AIDB President. "Her passion for wanting AIDB students and staff to excel and achieve great things are felt constantly by our staff, students and families served in all AIDB instructional programs. She has dedicated her life to education and especially to those who are deaf, blind and multidisabled in our state."

"These women are all helping to make Alabama a better place and we're honored to recognize their leadership and celebrate their accomplishments," said Elizabeth Hoekenga Whitmire of This is Alabama. "The 25 honorees were so generous to share their personal experiences with us, offering advice to other women and discussing the barriers they've faced – and how they've worked to overcome them."

As the Vice President of Instructional Programs, Hendrix leads AIDB's three K-12 schools; Alabama School for the Blind, Alabama School for the Deaf and Helen Keller School of Alabama; AIDB's Child Nutrition Program and Health and Clinical Services which includes all student's Individual Education Plans (IEP), state assessment standards, AIDB's accreditation process, and AIDB's nursing and therapy programs. Hendrix is the first African-American female to hold the position of Vice President in AIDB's history, a position she assumed in 2014.

Hendrix is a graduate of The University of Alabama where she earned a bachelor's degree in Hearing Impairment, a Master's degree in Specific Learning Disabilities and an Education Specialist in Specific Learning Disabilities. Hendrix also holds a Master's degree from Jacksonville State University in Education Administration. Hendrix served as Special Education and System Test Coordinator for AIDB from 2007-2014 and previously served as the High School Director at Alabama School for the Deaf from 1995-2008. Hendrix also taught in the classroom at Alabama School for the Deaf and has teaching experience in early intervention programs and in the Tuscaloosa City and Bibb County school systems.