Return to Headlines
Part One of Alabama's 9th Annual White Cane Day Successfully Held Online; Next Up, Auburn!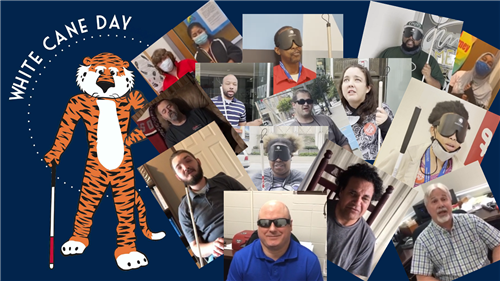 In a collaboration with the Alabama Department of Rehabilitation Services (ADRS), Alabama Institute for Deaf and Blind held the first half of this year's white cane celebration virtually on YouTube. Over 260 groups and individuals joined us live! A rebroadcast is available to watch at https://bit.ly/2021WCDAL.
During the live broadcast, more than $450 in prizes were awarded. A record number of White Can Day t-shirts, featuring an officially licensed Auburn Aubie the Tiger in the design, were sold; the most in our state's White Cane Day history! Over 200 shirts have already been sold and can still be purchased leading up to the in-person event at Auburn University on February 19, 2022
The online events Master of Ceremony was Kellee Sanchez, Orientation and Mobility Specialist from the Mobile office of ADRS. Welcome speeches were presented by Commissioner Jane Elizabeth Burdeshaw and AIDB President, John Mascia Au.D. Amber James, Orientation and Mobility Specialist at AIDB's E. H. Gentry Facility, gave the history of White Cane Day. Bill Adams, Orientation and Mobility Specialist from the Montgomery office of ADRS, gave the history of the white cane and of guide dogs. Spotlight videos highlighted different organizations and individuals including The Alabama Council of the Blind, National Federation of the Blind, VA Southeastern Blind Rehabilitation Center, and The Alabama Library for the Blind and Physically Handicapped. Videos were also shown on "What the White Cane Means to Me" which highlighted ADRS Consumers, Alabama School for the Blind students, and Alabama Freedom Center for the Blind students. ADRS also honored three ADRS Leadership Academy graduates: Dana Barber, Blair Cowan, and Dena Dodd.
Now that the online event is over, preparations are being made for the in-person event at Auburn University. The event will begin at Toomer's Corner and attendees will walk down South College Street before ending in the shadow of Jordan-Hare Stadium. It is going to be a wonderful event and we look forward to showing COVID-19 that it may delay our in-person celebrations, but it won't hamper the independence of Alabamians who are blind or visually impaired!
If you have not registered for the in-person event or pre-ordered your t-shirt, please do so at www.tinyurl.com/WCDAL2021.