Return to Headlines
We Win Drug Prevention Program Presents at Alabama School for the Blind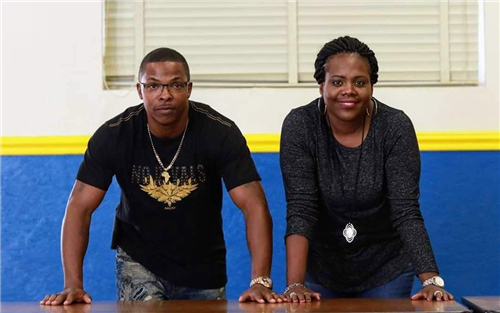 On Tuesday, October 26, high school students at Alabama School for the Blind (ASB) heard a presentation from the We Win Drug Prevention Program. Ivi McDaniel, a substance abuse counselor for Fresh Start Recovery Ministries and director of We Win Recovery, and Tee Jay Wilson, owner and director of Fresh Start Recovery Ministries, presented on the dangers of drugs, alcohol, and addiction.
McDaniel opened the presentation, titled "Drugs are Everywhere," with the perception that modern media is selling the idea that drugs and alcohol are okay. When asked, the majority of the ASB students in the room had consumed media, including music, video games, and social media, that highlighted drug or alcohol use in a positive light.
During the presentation, McDaniel also asked the students why people would do drugs. A variety of answers were given but the majority touched on wanting to get rid of mental or emotional pain. McDaniel went on to note how this made her sad. When she was going up and at the beginning of her career, the majority of answers revolved around popularity and wanting to have fun. But somewhere along the way, culture began to shift with students as young as Kindergarten noting this desire to get rid of mental or emotional pain.
Wilson highlighted this by stating the fact that, prior to battling the COVID-19 pandemic, society was already in the midst of an opioid pandemic. It was estimated that 72,000 people were addicted to drugs prior to COVID-19. This statistic has increased by 20% in the year and a half since the COVID-19 pandemic began.
Teens who are going through the typical brain development that happens from early adolescence through the mid-20s, are more vulnerable to the risks of drug use. The increased rate of addiction in today's society further intensifies those risks. . During this time, students who rely on drugs or alcohol to get rid of their pain are also learning to deal with their emotions in unhealthy ways that may have lasting effects. Instead, McDaniel noted, they should learn to talk to someone, such as a teacher, counselor, or parent, about how they are feeling.
Several resources were shared during the presentation including videos from the Foundation for a Drug-Free World.