Return to Headlines
Base Supply Store sees 25th year By Skip Vaughn, Rocket editor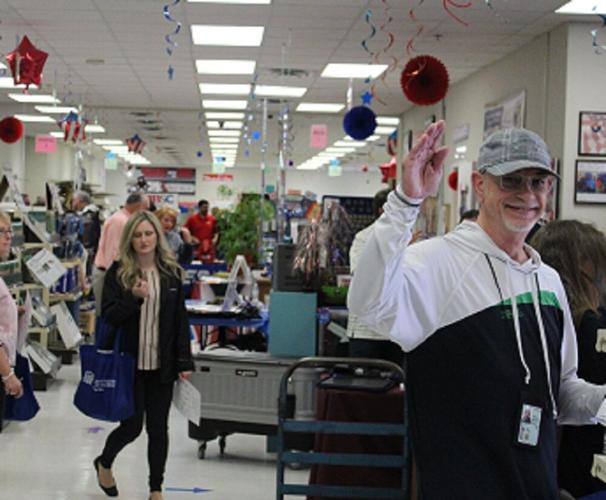 Because of the pandemic, the Base Supply Store's last annual customer appreciation and vendor show was 2019.
But this April tradition resumed Thursday in the Redstone store's 25th year. The center is operated by the Alabama Industries for the Deaf and Blind.
"We would like to let the customers and vendors know that we appreciate their continued support of our AbilityOne program," Dee Malone, manager of the Base Supply Store, said. "We appreciate them for standing by us during this rough time for everyone."
Three of her store's eight employees are visually impaired. "We're more of a family than we are co-workers," Malone said.
The family atmosphere was evident at Thursday's event. In the aisles decorated with balloons, customers visited various tables where vendors showed their wares. They enjoyed a catered barbecue lunch.
Visiting from the Talladega office of the Alabama Industries for the Blind were Kyle Gregg, executive director, and Susanne Willis, sales and marketing manager.
"The Redstone Arsenal store is one of our strongest performing stores," Gregg said. "Not only do they support our nation's warfighters, but their efforts here help support our employment program for over 200 blind and visually impaired employees across the state of Alabama."
The four stores operated by the Alabama Industries for the Blind include Redstone Arsenal, Fort Rucker, Warner Robins Air Force Base, Georgia, and Moody AFB, Georgia.
"We have a great team of employees here who go above and beyond to help customers here at Redstone," Willis said. "We appreciate their hard work and the support that Redstone Arsenal provides us."
Among the vendors were Pete Origliasso, a government account manager for MSC, and Hyojon Robbins, key account manager for Milwaukee Tool. Their companies are partners; MSC, an industrial supply company, sells Milwaukee Tool's products. Milwaukee Tool is a manufacturer.
"A lot of people here. Attendance was great," Origliasso, who lives in St. Louis, said. "We were able to talk to people that hopefully we can support."
"Since the pandemic, we've had to do virtual events," Robbins, who resides in Washington, D.C., said. "We missed getting the face-to-face where we can really connect with our customers and showcase our innovative new products."
Javian Swain, custodian with Phoenix Services, was among the 150 attendees during the event. He has shopped at the store since February 2019.
"I like it," Swain said. "All the staff is friendly, helpful. And it's clean up in here."
The store, filled with office supplies, is open 8 a.m. to 3:30 p.m. Monday through Friday at building 3775 on Maintenance Row. The phone numbers are 876-4011 and 382-1111.
Government purchase cardholders are required by the government to use Alabama Industries for the Blind as their first source for purchases.
Originally published in Redstone Rocket. Used with permission.