Return to Headlines
AIDB Foundation Announces Jim Townsend Limitless Achievement Award Recipients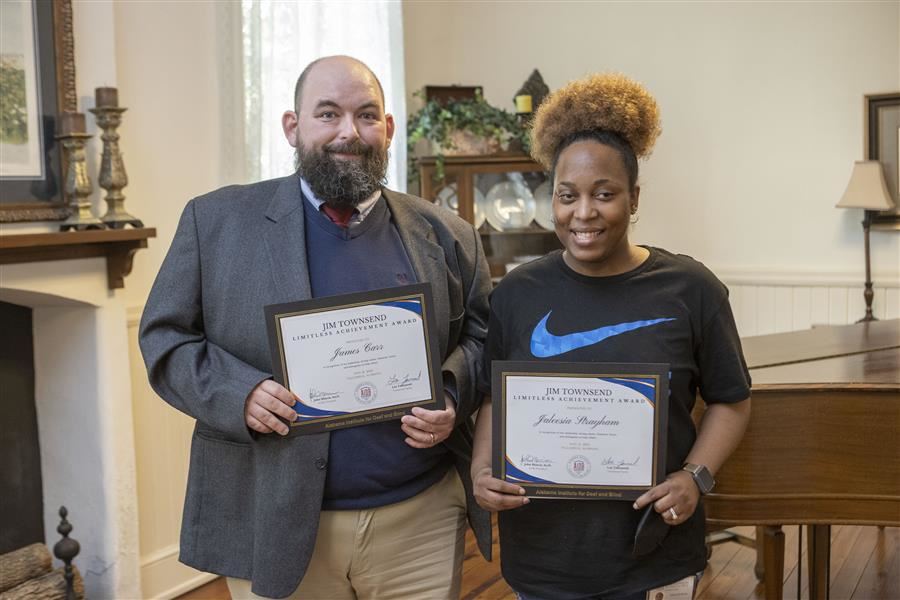 On Tuesday, May 31, 2022, Alabama Institute for Deaf and Blind (AIDB) Foundation hosted a luncheon to celebrate the inaugural recipients of the Jim Townsend Limitless Achievement Award. This award, initiated by First Bank Mortage in March of 2022, memorializes and honors Jim Townsend who met his untimely death in August 2020.
"Jim was a loving, caring, and strong friend, husband, brother, son, and grandson," said Lee Townsend, Jim's brother. "He was a rugged individual who would give the shirt off his back to help someone in need. He was always the first to show up."
The award was created to also show support for Lee by supporting the initiatives and institutions that are meaningful to him and his entire family.
"Our family has been involved and has loved AIDB for many, many years," said Lee. "To honor my brother and his love and passion for life, patriotism, and helping others, I am blessed to be able to pay it forward by way of this award."
To qualify, nominees must be 18 years old, gainfully employed or a full-time student, and be a past or present Talladega resident or currently working at AIDB or attending an AIDB campus. Nominees must also have good attendance and a great work ethic; show leadership, patriotism, honor, and the willingness to help others; and exemplify strong values and character. They must also show a need and be actively striving to better their life as demonstrated by establishing a home or residence for themselves or their family, obtaining a vocational or training certificate, pursuing college or higher education, or joining or serving the military.
This year, The Jim Townsend Limitless Achievement Award was awarded to James Carr and Jaleesia Straham.
James Carr is originally from Talladega and currently serves as a Job Developer for AIDB's Huntsville Regional Center, Decatur Regional Center, and E. H. Gentry Facility. To his coworkers, supervisors, and clients, he is known as a servant-leader who is always first to volunteer, always willing to assist, and always willing to take leadership roles in order to learn. He has been named a local Governor's Award Winner, has co-chaired the Ability Career and Craft Fairs in Huntsville, and has facilitated a Sensitivity, Diversity, and Inclusion Training with Boeing as well as with Alabama Industries for the Blind (AIB), AIDB's Regional Centers, and E. H. Gentry Facility. Carr represents AIDB's championship mentality and spirit of continuous improvement.
"Receiving this award means a lot to me," said Carr. "The idea that my leadership, hard work, and service to others are recognized by my peers is humbling. It's hard to see the impact I'm making every day; I feel like I'm just doing my job. I'm honored that my peers feel this way about me."
Jaleesia Strayham was just 20 years old when she had emergency eye surgery to save a small portion of her sight. From that point forward, she was legally blind but determined not to let any obstacle change her life. She began working with AIB's production team in 2016. In 2020, she began shadowing the AIB store staff, customer service team, and the accounting department before moving to the warehouse in 2021. She has completed the National Industries for the Blind's Upward Mobility Program as well as the FDIC's Money Management program. She is known to her supervisor and coworkers as someone with a "can-do" attitude paired with the flexibility and willingness to learn new things. She is an asset to the entire AIB team.
"It means a lot to receive this award," said Strayham. "I didn't think I was going to get it. Hard work definitely pays off."
"After hearing their stories, I can recognize that James and Jaleesia have the same qualities as my brother Jim," said Lee. "They have a strong, positive impact on their friends, family, and community. There are no two more deserving to receive this award."