Return to Headlines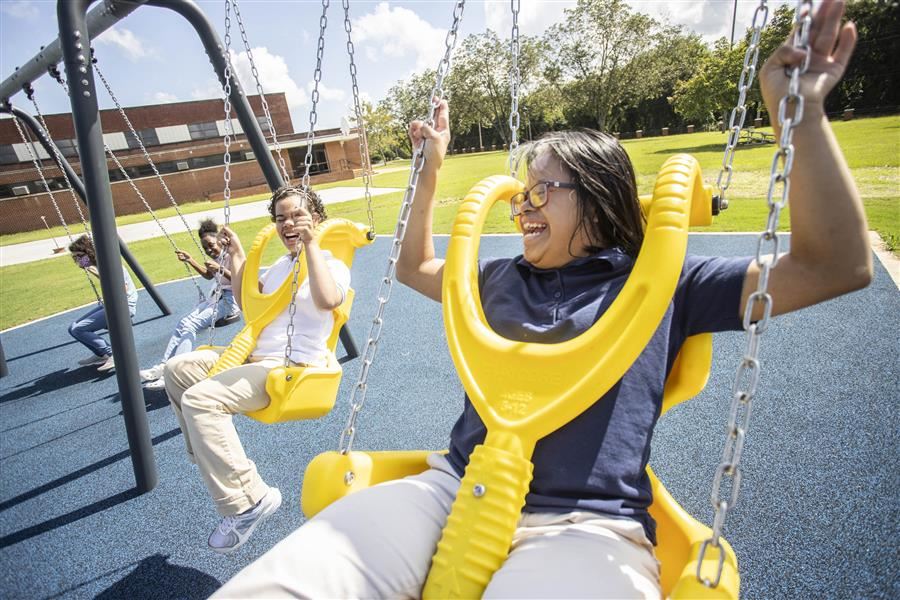 With a backdrop of joyful sounds and excited laughter the Alabama Institute for Deaf and Blind (AIDB) Foundation held a ribbon cutting on August 16, 2022, to open a brand-new, fully-accessible playground at Helen Keller School of Alabama (HKS). AIDB worked with KOMPAN, a global leader in designing play equipment to install the 7,000-square-foot playground, which is the only one of its kind in the state and is designed to offer state-of-the-art opportunities for play.
The playground represents an investment of over $500,000 in the students of HKS. It was made possible through a combination of state funds and philanthropic dollars raised by the AIDB Foundation, including lead gifts from Alabama Power Foundation, Hillcrest Foundation, The Daniel Foundation, and North Shelby Baptist Church.
"This is the state's only fully accessible playground, and it is right here in Talladega for our students at Helen Keller School of Alabama," said Allen Cope, President, AIDB Foundation. "This playground will support the varying developmental goals, objectives, and needs of the students."
To accommodate the needs of HKS students, the playground uses various flooring textures such as engineered wood fiber and recycled bonded rubber. The play equipment includes easy-access ramps, long arch bridges, gyro pod spinners, disc swings, wheelchair swings, a spin max tower, activity panels, and numerous play stations that make physical therapy a fun and engaging activity.
In addition to meeting accessibility needs, the playground was designed to meet the additional specific needs of HKS students. Did you know that the static electricity generated when students slide down playground slides can shut down a cochlear implant in an instant? The play styles of students with various exceptionalities can also vary greatly. HKS and KOMPAN worked together to understand and meet the unique needs of all HKS students. Sensory-rich activities such as play panels with different textures, sound implements, and pathways with slight changes in grade or texture were installed to enrich the play for students who are blind. Students who have low vision benefit from color-coded elevations that empower them to navigate the playground independently. A poured rubber floor allows complete access to the play area for students with motor difficulties or who use a walker or wheelchair. The playground is also equipped with wheelchair ramps along with paths and entryways that are wide enough to accommodate wheelchairs.
"We are grateful to be part of this, and many other meaningful and life-changing projects at AIDB," said Terry Smiley, Vice President, Eastern Division, Alabama Power Company. "Today, we bring the power of play to the students at Helen Keller School of Alabama who will now be able to fully access the developmental benefits offered by accessible play and activity."
AIDB Foundation partners have joined together, once again, to exemplify the AIDB motto of Deaf. Blind. Limitless. Through barrier-free play, HKS students will learn about the world and themselves. By being able to play on the playground with their peers, they will develop confidence as well as social and cognitive skills. Imaginations and creativity will thrive while dexterity and problem-solving skills will grow. Through this playground, students now have a fun, safe, and accessible place to learn and grow together.