Return to Headlines
HKS Agriscience Receives Grant
Helen Keller School Agriscience Program Receives Grant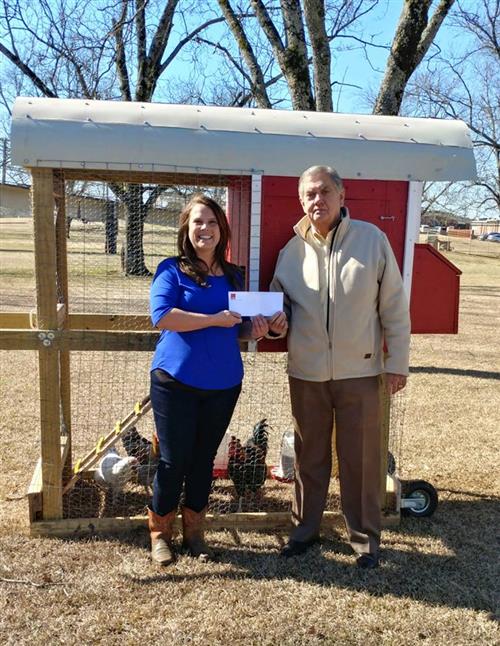 The Helen Keller School agriscience program has been awarded an Alabama Agriculture in the Classroom mini-grant for its integration of agriculture into curriculum areas. Alabama Agriculture in the Classroom is an interdisciplinary educational program that promotes Ag literacy for students in grade levels K-12. On January 31, State Representative Steve Hurst presented agriscience teacher Rachel Chastain with the funds which will be used to purchase supplies for the school's ag center.
"My students LOVE coming to class and their enthusiasm is contagious. I am thrilled that I get to share my love of agriculture with my students and work outside," Chastain said. "We gather eggs, feed chickens, hatch baby chicks, care for animals, and plant and harvest produce. We plan to keep bees in the future and add more livestock. I tell them about how they are doing work just like farmers in our community."
"I didn't know my child could do that!" It's a phrase often heard by teachers at the Alabama Institute for Deaf and Blind (AIDB) when parents get to experience their child's limitless potential being nurtured by the programs at AIDB. Chastain is no stranger to not only the amazement of parents learning just what their children can accomplish – but the thrill of success when a new task is completed and the sense of purpose each of her students develops.
"Our focus is to give our students a real work environment and practice real work skills. These opportunities will build their independence as they transition into adulthood. I want to encourage families and our community to include students with special needs in as many family and community activities as possible," Chastain said.
The mission of Helen Keller School is to provide a functional-based instruction to sensory-impaired students with multiple disabilities and/or deaf-blindness using an individual approach to living and work skill development. This approach emphasizes strong linkages with families through cooperative educational planning, case management, and transition services.