Phone: 256-761-3765 (V)
Email:
Degrees and Certifications:
EdD Deaf Education/Deaf Studies MA Educational Administration MA Visual Impairments MA Math BS Math
Dr.

Dennis Gilliam, Executive Director

Joined September 2016

Dr. Dennis A. Gilliam is the Executive Director of Special Projects for the Alabama Institute for Deaf and Blind. In addition to other projects, Dr. Gilliam manages the NTID Southeast Regional STEM Center at AIDB. A 25 year veteran educator, his experiences span a myriad of exceptional education areas. Committed to lifelong learning, Dennis obtained both his B.S. and M.A. in mathematics from the University of Alabama. Dr. Gilliam went on to obtain certification in Visual Impairments from the University of Alabama- Birmingham and Educational Administration certification from the University of Montevallo. Dennis obtained his Doctorate in Deaf Studies and Deaf Education from Lamar University.
Phone: 256-474-0452 (VP)
Email:
Degrees and Certifications:
MS Deaf Education - Lamar University BS Computer Engineering - George Mason University
Jason Roop, Director

Specialty Areas - Cybersecurity, Math, IT

Joined February 2019

Jason Roop is currently the director of the NRSC in Talladega, Alabama. A native of Virginia and a graduate of Georga Mason University, instead of working in the private sector immediately after undergraduate school, he chose to work with Deaf children at Alabama School for the Deaf (ASD). He received his Master's in Deaf Education from Lamar University shortly thereafter. Because of his experience as a Deaf student in a mainstream program, being exposed to STEM courses in high school, he desired to bring the same experiences and life-changing impact to the students at ASD. His nearly 17 years of experience in Deaf Education and Information Technology gives him a unique perspective in promoting STEM in education.
Phone:
Email:
Degrees and Certifications:
Phone: 256-589-0112 (V), 256-474-4560 (VP)
Email:
Degrees and Certifications:
MEd Deaf Education - Western Maryland College/McDaniel College BS Bible/EL Education - Roanoke Bible Collge/Mid-Atlantic Christian University
Lynn Dunn

Specialty Areas - English, Literacy, ACT

Joined November 2016

Having been in the educational field for over thirty years, Lynn has worn many hats from classroom teacher, language specialist, curriculum coordinator, counselor, and outreach provider in the area of English and literacy in relation to STEM education. She has taught Deaf/Hard-of-Hearing students from the kindergarten level through college level in the areas of Life Skills/ Independent Living Skills, Social Studies, English, and reading. In my latest role as STEM Outreach Coordinator, I have been involved in workshops/trainings involving the Universal Design for Learning, the Outdoor Classroom, and NSTA workshops related to including STEM across the curriculum; as well as, presenting on the regional and national levels on teaching English/Writing Skills to the Deaf/Hard-of-Hearing, ACT Prep, incorporating STEM/NGSS across all subject areas.
Phone: 256-368-1356 (V)
Email:
Degrees and Certifications:
MS Collaborative Teaching - University of Alabama-Birmingham BS Deaf Education - Montevallo University
Debbie Gilliam

Specialty Area - English, Literacy, ACT

Joined May 2020

Debbie Gilliam is a dedicated educator with 23 years of teaching experience in delivering enthusiastic instruction and curriculum based on the learning needs of students who are Deaf and Hard of Hearing. Her teaching experience includes all ages from primary grades to working with adult learners. She was the 2015 recipient of the University of Montevallo Outstanding Alumna for Deaf and Hard of Hearing Education and the 2002 recipient of the Outstanding Alumni Collaborative Teacher Program for University of Alabama at Birmingham. Debbie is currently enrolled in the Deaf and Hard of Hearing Infants, Toddlers and their Families: Collaboration and Leadership Interdisciplinary Graduate Certificate Program. She enjoys traveling, practicing yoga, and spending time with family on the lake.
Phone: 256-474-4507 (VP)
Email:
Degrees and Certifications:
MS Deaf Education - McDaniel College BS Mathematics - Gardner-Webb University
Brett Grayson

Specialty Areas - Math, Robotics, Coding/Computer Science

Joined January 2020

Brett is a STEM Trainer with a math background. Brett grew up in North Carolina and had aspirations of becoming a civil engineer, but after being a substitute teacher at a mainstream program, he knew teaching was something he wanted to pursue. Brett has worked in the field of Deaf Education for over ten years, taking on various positions as a dorm counselor, a classroom math teacher and a statewide consultant for a Deaf-Blind Project. He wants to combine his experience and passion for teaching to provide Deaf students with the opportunity to "find their place" in the STEM field. At work, he specializes in middle school robotics. Outside of work, he likes to spend time with his wife and fur-children, CrossFit, and any type of outdoorsy activity.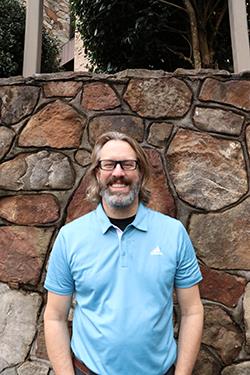 Phone: 256-299-7077 (VP)
Email:
Degrees and Certifications:
MS Deaf Education – Rochester Institute of Technology MS Computer Integrated Manufacturing – Rochester Institute of Technology BS Mechanical Engineering – Rochester Institute of Technology AAS Electromechanical Technology – Rochester Institute of Technology AOS Automotive Technology – NASCAR Technical Institute
Matt Howell

Specialty Areas – Engineering, CAD, Mechanical, Electronics

Joined October 2020

Matt is a STEM trainer in M.E.L.D. (Mechatronic Engineering for Leadership in Deafness). A Model Secondary School for the Deaf Alumni who came from a small town in the Great Smoky Mountains of North Carolina. He started off as customization manager for a sports uniform company dealing with graphic design, heat press, screen print, and embroidery for 5 years until he was successful in getting his dream job by working as mechanical design and quality engineering within the automotive technology field. He has worked within NASCAR, military, and motorsports fields. After 20 years of working in technology industries, he wanted to share his knowledge and experience in advanced technology with Deaf students. So, he became an Engineering and Automotive Technology teacher at North Carolina School for the Deaf for a couple of years before joining the NRSC Team. He has a huge passion in motorsports and automotive technologies. He enjoys traveling, hiking, and watching movies with his beautiful wife, son, and dogs.
Phone: 256-474-0243 (VP)
Email:
Degrees and Certifications:
MA Deaf Education - Gallaudet University BA Elementary Education - Wichita State University
Harry Wood

Specialty Areas - Science, Robotics, Coding/Computer Science

Joined January 2017

Harry is a STEM Trainer with a science background. He started out as the math/science specialist and now specializes in High School Robotics for STEM education. He tries to combine his experience as a teacher of the D/HH with the best practices of STEM education into a cohesive model. Prior to his current position, Harry taught students in high school at the Virginia School for the Deaf and the Blind from 2003-2016, specializing in science education. Originally hailing from Maryland, he provides support & enthusiasm in robotics and computer science/coding among many other things. He has a love for gardening, hiking, kayaking, and anything to do with nature.